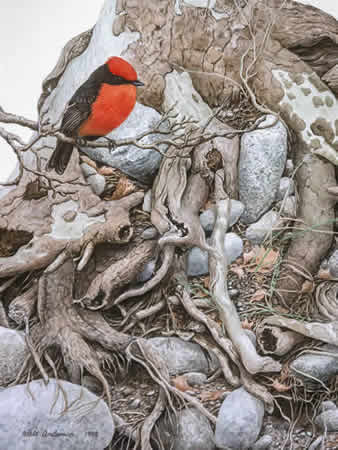 Meeting Artwork by Walt Anderson
Featuring: Presentations, Dinner Speaker, Mini-Field Expeditions
Arizona Field Ornithologists

11th Annual Meeting

Cottonwood, AZ

20-22 October, 2017

Quality Inn

301 W. Sr 89-A, Cottonwood, AZ 86326

Register Online:

Registration for Meeting (coming soon)

Registration for Expeditions/eBird Workshop (coming soon)

New This Year!

Kayak Birding Expedition

Advanced eBird Workshop (for details click here)

Call for Papers and Posters click here

If you are interested in presenting a paper or displaying a poster on the identification, status or distribution of Arizona birds, please check out our Call for Papers and Posters guidelines. Papers and posters may range from technical reports of original research to general surveys and studies. Please submit an abstract by 1 September 2017 to Jennie MacFarland at jmacfarlandATtucsonaudubon.org. Abstracts of papers and posters from past AZFO meetings are available here.

Youth Scholarships click here

AZFO is proud to encourage and support young people with an interest in Arizona birds. As part of our goal to involve a younger generation in AZFO's activities, we offer scholarships to students (middle school through college undergraduate) to attend the annual meeting. Application information is found here. Prior years' essays can be read here. Students should apply by 20 September 2017. The AZFO scholarship program is generously supported by the Maricopa Audubon Society.

Board Elections

Elections will be held at the annual meeting. Two positions are open: Membership Secretary and Board Member. If you or someone you know is interested in serving as an AZFO Officer, Board Member or Committee member in the upcoming year, please contact Chrissy Kondrat-Smith at azdesertbirdATgmail.com. Current Board members and other positions are listed here.
Meeting Details
List of Accommodations click here
Area Restaurants Suggestions (coming soon)
Detailed Meeting Guide (coming soon)
Mini- Expeditions details(coming soon)

eBird Workshop details click here

Friday, 20 October
Photo Credit, Chrissy Kondrat-Smith
Kayak Birding Expedition

A special feature of this annual meeting will be a kayak birding expedition led by Doug Von Gausig. This four-hour trip down the Verde River will follow a stretch from the Lower Tapco River Access Point (TapcoRAP) above Clarkdale to the Tuzigoot River Access Point (TuziRAP), a distance of about 3.5 miles through one of the most diverse, pristine stretches of the river. This stretch is home to several pairs of breeding Yellow-billed Cuckoos and Willow Flycatchers. Doug will cover a range of topics including birds, archeology, riparian ecology, water law, and biodiversity.
Afternoon Mini-Expeditions details (coming soon)

(registration for Mini-Expeditions is required)
SOCIAL HOUR
4:30 P.M. -- 6:00 P.M.
Saturday, 21 October
MEETING
8:30 A.M. -- 4 :30 P.M.
Photo Credit, Chrissy Kondrat-Smith

Detailed Meeting Guide (coming soon)

Used Book Sale

Invited Presentations on Arizona Birdlife and Research

Papers-

Posters-

Bird Photo and Audio Quiz

Other Reports:

Reports and future plans for such AZFO activities/projects as;

Field Expeditions
Online Journal

Elections of the AZFO board and officers
SOCIAL HOUR
5:30 P.M. -- 6:30 P.M.
DINNER
6:30 P.M.
Keynote Speaker:
Our keynote speaker at the Saturday evening banquet will be Doug Von Gausig, Clarkdale's advocate for the bird population in Arizona and Mayor of Clarkdale. Join us as he shares his insights on the avifauna of the Verde Valley, especially threatened and endangered species, and how the huge conservation efforts centered on the Verde River have affected avifauna.
Sunday, 22 October
Advanced eBird Workshop (details here)
Thanks to the generous support of the Maricopa Audubon Society, we are also able to offer an advanced eBird workshop given by Ian Davies, eBird Project Coordinator for the Cornell Lab of Ornithology.
Mini-Expeditions details: (coming soon)

(registration for Mini-Expeditions is required)