Northern Shrike (Lanius excubitor), Mormon Lake, Coconino County
This adult Northern Shrike was first reported by Lauren Harter on 21 January near Mormon Lake which is about 30 miles SE of Flagstaff. Pierre Deviche photographed it on 1 March 2008. Northern Shrikes are rare in Northern Arizona and in recent years have not been found reliably anywhere in the state.
Nothern Shrike is an ABC sketch details species. The ABC and North American Birds editors request that minimal (sketch) details of sightings of these species be turned in for the sighting to be included in the NAB seasonal report, and for that sighting to be considered "official" with regard to the records keeping for the state. Sketch details should include a photo or brief description of the bird and circumstances surrounding the sighting. Sketch details can be sent to the NAB regional editors: Gary Rosenberg (ghrosenberg AT comcast.net) or Mark Stevenson (drbrdr AT att.net)
Note the long bill with pronounced hook at the end, the narrow black mask which does not go over the bill and the lack of contrast between throat and breast.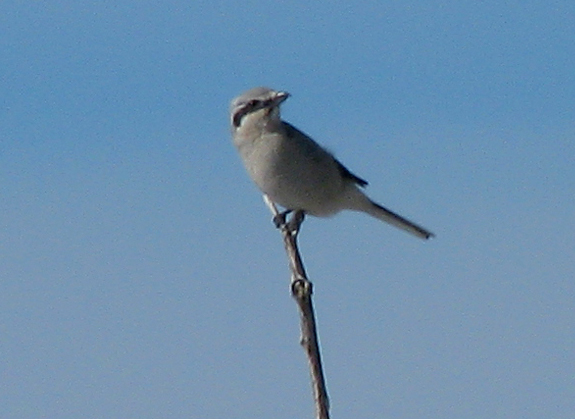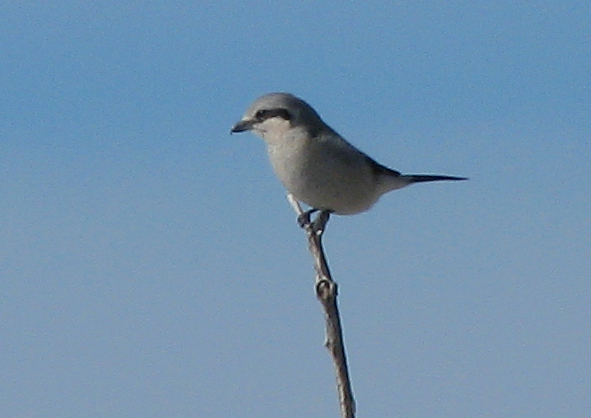 1 March 2008 photos by Pierre Deviche